This is our biggest project ever!

AVAILABLE NOW. YOU CAN ORDER YOUR COPY (OR COPIES!) BELOW.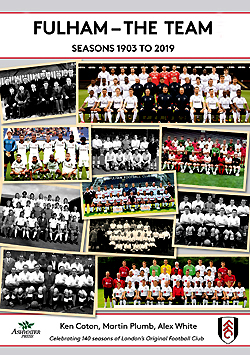 The most definitive book ever on Fulham Football Club.

TO OUR MANY SUPPORTERS WHO HAVE ALREADY BOUGHT COPIES:

Thank you for supporting us.


---
Almost 25 years ago, the 'Save Fulham' organisation Fulham 2000 brought out a book called FULHAM–THE TEAM, to help provide funds for the cause. It was an Ashwater book produced by Ken Coton assisted by Dennis Turner, and featured a team group photograph of every season from 1903 to 1996 together with a very brief description of the season. It was Dennis's favourite book, and we considered that it was about time that the book was updated – after all, quite a lot has happened over the last 25 years!
We started on the project early in 2018 with, we are delighted to say, the full cooperation, support and enthusiasm of the club. We very soon realised that this was going to be a mammoth enterprise, and it has taken the best part of 18 months.
We decided the book should be A4 in size, and for the most part each season should occupy at least two pages. This meant that the text could be considerably broadened, giving a definitive record of each season. In addition, there would be room for player pictures and action pictures – and of course, there would be colour wherever possible. Each season features a complete list of every player who made at least one first-team appearance and includes the final league table.
Each season details (where appropriate) highs and lows, critical matches, players, managers, transfers, important events, club milestones, ground changes, interesting facts and more. The book concentrates on the league performances, but also includes significant runs in domestic cup competitions and Europe.
There are extensive sections on the two World Wars, as well as a history of the years following 1879 before the club turned professional. Also included is every match result since 1907 and a section of interesting (well, we think so!) and important statistics.
For this publication, Ken and Martin are delighted to have worked alongside club historian Alex White, the doyen of statistics and the expert particularly of Fulham's very early years – and together these three musketeers hope to have produced a book worthy of Fulham FC, Ashwater and Mr Turner.

THE BOOK IS OUT NOW - coinciding with the club's 140th anniversary.
It is a large hardback book, of 288 pages with around 500 photographs, meticulously researched and produced with the usual Ashwater quality.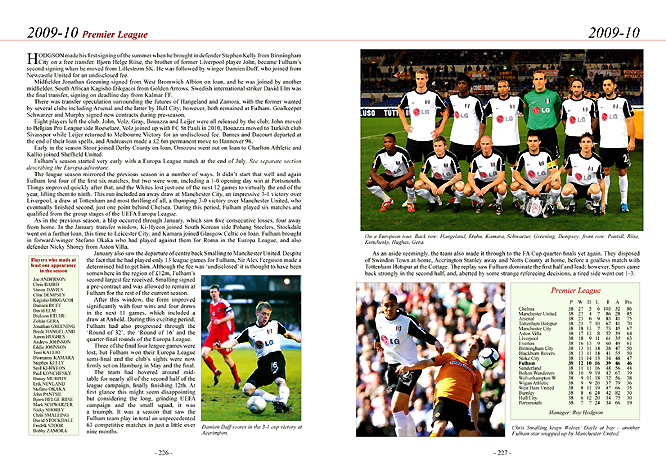 TO ORDER, PLEASE USE THE FOLLOWING MENUS – for one or two copies.


Kindly note that during the holiday season, books may be delayed a few days for posting.


The book is priced at £29.95, plus just £3 for postiing.
If you order two copies at the same time (using the second menu) you can take advantage of a discount of almost 10%, though this offer applies to the UK only.

If you have any
problems
or
queries
, please email ashwaterpress@btinternet.com
or phone 01344 624 231 or 020 8894 7954.

---
FULHAM – THE TEAM - 1 copy including posting


---
FULHAM – THE TEAM - 2 copies including posting -
save £6
(UK only)



PLEASE NOTE: The two copies will be posted in separate parcels and may not arrive at the same time.



---

Thank you from Ken and Martin and Alex at Ashwater.


BACK TO ASHWATER HOME PAGE