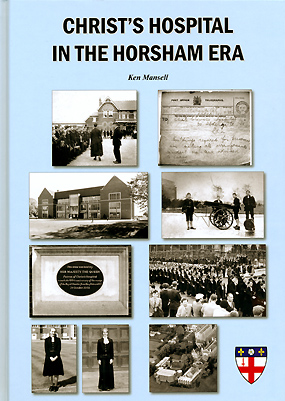 TO OBTAIN A COPY PLEASE USE THE OPTION BELOW
In 1902 Christ's Hospital moved from its six-acre site in the City of London to its new home set in 1,200 acres in the countryside just south of Horsham.
Now, over 100 years on from this momentous change, Ken Mansell, who was at CH from 1953 to 1961, has produced a book which presents an account of the main events at the School (principally the boys' School, but also with coverage of the Hertford girls' School) during the Horsham era, including in particular:
Settling in; two World Wars; changes in the mid-1960s and early 1970s; the merger in 1985 as the girls' School moved from Hertford; into the 21st Century.
The book provides some historical information about the School, going back to its founding in 1552. It also gives brief biographical details of 475 notable former pupils (Old Blues) mainly from the Horsham era. There is in addition a full list of all such notables across the 465 years of the School's existence. Information is also given on pupil numbers, where they were admitted from and the cost of their education, and on various Old Blue institutions.

This is a high-quality, A4 hardback book of 144 b/w pages containing 185 illustrations and three tables. The book – the first to provide an extensive account of the whole of the Horsham era – is the third in the author's trilogy of publications on CH, following "Christ's Hospital in the Victorian Era" (2011) and "Christ's Hospital Pupils 1552-1902" (2014), the latter including the names of over 46,000 pupils who had been admitted to the School between 1552 and 1902.
---
CHRIST'S HOSPITAL IN THE HORSHAM ERA

Price: £16 plus £4 post and packing
UK only


For further details and for overseas orders, please contact the author


at
ken.mansell@btinternet.com
or 020 8668 5075.
---