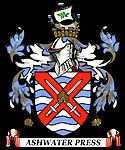 ---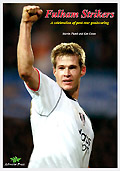 FULHAM STRIKERS
The book details one hundred 'number 9s', centre forwards and principal goalscorers from the Second World War until the end of last season – 'From Beddy to Berbatov'. For all of the principal seventy-five players, it details their youth career, careers at previous clubs, concentrating obviously on their time at Craven Cottage. Also included are their playing careers after leaving Fulham including non-league and, if known, what they did after leaving the game. Their history includes clubs abroad and their international careers.
Their Fulham period details highlights, hat-tricks and special matches and anecdotal material, and also analyses what kind of player he was, his attributes and style. Each player has playing statistics and is illustrated with Ken Coton/Ashwater pictures augmented by some newspaper and private images.
Our list of principal strikers includes all those you'd expect to find, such as Maurice Cook, Vic Halom, Gordon Davies, Leroy Rosenior, Mike Conroy, Geoff Horsfield, Barry Hayles and Brian McBride, and some names that may be less familiar, such as Allan Jones, Dave Metchick, George Johnston, Dale Tempest and Tony Thorpe. In between is a whole host of players from Bedford Jezzard to Bobby Zamora, from Jackie Henderson to Steve Marlet.
These are the principal strikers featured in the book:
Les BARRETT
Rod BELFITT
Roy BENTLEY
Dimitar BERBATOV
Luis BOA MORTE
Gary BRAZIL
Bobby BROWN
Viv BUSBY
Johnny BYRNE
Trevor CHAMBERLAIN
Allan CLARKE
Andrew COLE
Dean CONEY
Mike CONROY
Jimmy CONWAY
Maurice COOK
Roger CROSS
Gordon DAVIES
Brian DEAR
Clint DEMPSEY
John DOHERTY
Roy DWIGHT
Steve EARLE
Sean FARRELL
Joe GILROY
Chris GUTHRIE
Kelly HAAG
Vic HALOM
Barry HAYLES
Johnny HAYNES
Heidar HELGUSON
Jackie HENDERSON
Jimmy HILL
Geoff HORSFIELD
Bobby HOWFIELD
Bedford JEZZARD
Collins JOHN
Andrew JOHNSON
George JOHNSTON
Allan JONES
Peter KITCHEN
Frank LARGE
Graham LEGGAT
Dirk LEHMANN
Malcolm MACDONALD
Brian McBRIDE
Doug McGIBBON
Tony MAHONEY
Steve MARLET
Rodney MARSH
Teddy MAYBANK
Dave METCHICK
John MITCHELL
Paul MOODY
Bobby MOSS
Erik NEVLAND
Paul PESCHISOLIDO
Chris PIKE
Sir Bobby ROBSON
Ronnie ROOKE
Leroy ROSENIOR
Arthur ROWLEY
Louis SAHA
Facundo SAVA
Andy SAYER
Tony SEALY
Phil STANT
Arthur STEVENS
Reg STRATTON
Jeff TAYLOR
Dale TEMPEST
Bob THOMAS
Tony THORPE
Alan WARBOYS
Bobby ZAMORA
The book also gives cameo details of twenty-five less prolific forwards who have worn the number 9 shirt for the Whites, such as Alf Stokes, Steve Milton, George Georgiou, Kevin Betsy and Karl Heinz Riedle.
The book is completed by a number of intriguing statistical tables, facts and figures.
---