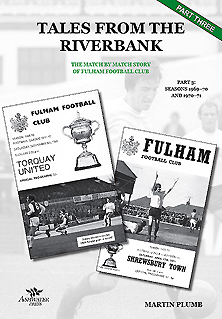 This third volume in the famed Riverbank series covers two more tumultuous years in Fulham's history.
This A4 hardback book has 224 pages and over 125 photographs, many never seen before.
For more details about the book, please click here.
TALES FROM THE RIVERBANK - Part 3
Seasons 1969-70 and 1970-71
by Martin Plumb
NOW ON SPECIAL OFFER
"Good evening Martin. Just got back from a short break with my daughter, to find my new "Tales" waiting for me. Yet again you and Ken have surpassed yourselves. Brillant book. Had a quick look, had my tea, tv off, now I will settle down and re-live all the good and some not so good memories. Thanks for a great book. Here`s to the next one." - CC.
"Martin, it is an outstanding book that will give pleasure to many Fulham fans. Well done to you both." - DB
---
A superb book, beautifully produced.