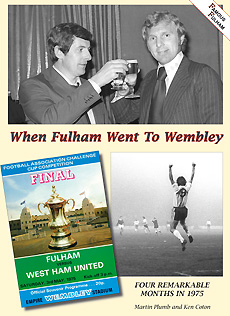 FOUR REMARKABLE MONTHS IN 1975
No need to spell out what this book is all about! The title says it all. This was the magical four months from the beginning of 1975 that took our team to Wembley and the FA Cup Final for the first and only time.
With detailed narrative and almost 300 photographs and illustrations, (many of these pictures from Ken Cotonís archive never seen before), this 208-page hardback book is a breathtaking reminder of those magical times. Itís the era of Stock and Taylor, Mullery and Moore, Busby and Mitchell.
From ambling along in mid-table in the Second Division, Fulham take three games to dispose of Hull City in the third round, and then take an incredible four games to dispense with Nottingham Forest newly under Brain Clough in the fourth round. Given no hope, they then beat First Division league leaders Everton away from home with ease at the first attempt. The quarter-final pairs us with First Division Carlisle, again away. A tense match follows and goalkeeper Peter Mellor plays the match of his life to see Fulham through. The semi-final in Sheffield is dominated by Fulham and a wonder goal from Mitch but itís not enough to see off First Division Birmingham. The semi-final replay in Manchester is a dour and bruising encounter, but ultimately won in the dying seconds by the scrappiest goal ever to take a team to Wembley. Fulhamís league form also takes off, and they become the team of the division, drawing away at Aston Villa, and winning at Sunderland and at Norwich (teams second to fourth in the division). They lose narrowly to champions Manchester United (for one season actually playing in the Second Division!). There is also sadness as legend Les Strong is injured against Portsmouth just prior to the final. Fulham then also have to face physical games against Oxford United and Bristol City where there is yet more controversy. However Wembley finally arrives - and read about the traumas of the court case, the painted boots and the lost shinpads. Fulham play tidily at Wembley but are over-awed a little by the occasion. First Division West Ham are no better, but two quick-fire goals on the hour see the FA Cup go to east London rather than west. However, Fulham and their supporters enjoy a great day out and a terrific post-match bash.
With an in-depth interview given by John Fraser and help from Les Strong, this book has been described as so accurate that Ďyou might as well have been in the dressing room alongside us.í
---