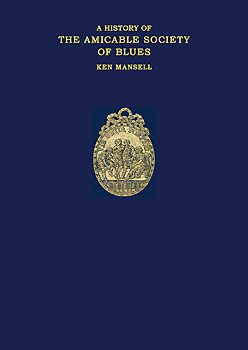 This is the new book from Ken Mansell, all about the Amicable Society of Blues, which consists mainly of former pupils of Christ's Hospital. It is possible that the Society's origins can be traced back to 1629, and this book covers its whole history. The book begins with a brief history of Christ's Hospital, the alma mater of most Brothers. It then describes how the Society has evolved across the years, with references to some of the more noteworthy events which occurred at the dinners. Also included are aspects such as the Society's rules, the form of the dinners, the venues and the ceremonies. A list of the 551 Members over the years is provided, as are the names of some notable guests. Chapters also cover the Amicable Foundation (the charitable arm of the Society) and the possible links back to 1629.
This is a comprehensive and entertaining book about what may be one of the oldest dining clubs in the world.
A HISTORY OF THE AMICABLE SOCIETY OF BLUES is a high quality Ashwater production. It is an A4 hardback book of 160 pages with illustrations and tables.
The book costs just £20, plus £4 postage to the UK, and can be ordered below.
FOR ORDERS TO ADDRESSES OUTSIDE THE UK, PLEASE CONTACT THE AUTHOR OR ASHWATER PRESS - SEE BELOW. Thank you.
Other books about Christ's Hospital by Ken Mansell are still available. Please contact the author.
Any queries, please contact ken.mansell@btinternet.com or ashwaterpress@btinternet.com