This is an NFR book (not Fulham related), but deals with David's radio life mostly before he became Fulham's matchday host.

Imagine there are no commercial radio stations, no local BBC stations, no music channels on TV. Only Radio One blasting out pop music across the UK.
That's how it was when the station launched in 1967.
At that time what was in the pop charts appealed to all members of the family, from grandparents to grandchildren, the same people who gathered round the television every week to watch Top Of The Pops, hosted by Radio One dj's.
What little television there was closed down around midnight, and there was no breakfast TV.
Radio One's audiences ran into many millions, and for the dj's, who became as well known as the artistes whose records they played, it was a golden era.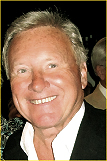 'Diddy' David Hamilton was one of those dj's and he saw it all. This is his story of those golden days and of those star dj's

.
During that time he met them all: Experor Rosko, Terry Wogan, John Peel, Tony Blackburn, Jimmy Savile, Ed Stewart, to name just a few - and they're all in the book.

And he has stories about them - funny, surprising, eye-popping. David's use of words is unrivalled and his reminiscences will have you gasping and laughing!

THE BOOK IS AVAILABLE NOW, PRICE JUST £9.95, PLUS £2 FOR UK POSTAGE.

ASHWATER is delighted to have produced the book for David.

The Golden Days of Radio One - paperback, approx 8¼ inches by 5½ (210mm x 140mm),
128 pages plus 8-page photo section.

You can obtain your copy here.

You can obtain a

SIGNED COPY

(no extra charge!) using the BUY NOW button further down the page.


If you would like a copy signed by David, please use the button below. If you wish David to add a dedication, please type in the words you require.



Please note that, because of David's busy broadcasting and show business schedule, there may be a delay in posting out signed or dedicated copies.

Thank you!






BACK TO ASHWATER OPENING PAGE